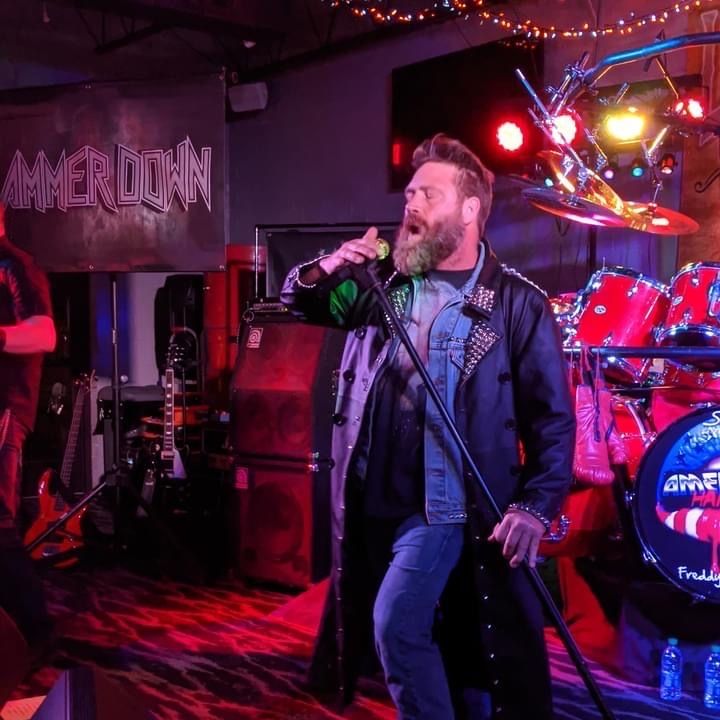 Freddie Brackett
Lead Vocals
For Freddie Bracket, music and singing are synonymous with life itself!  His love for singing began prior to him turning 10 years old.  Inspired and encouraged by his mother, Freddie and his six siblings along with his mother would become a rolling Gospel singing group while traveling in the car.  Freddie developed a lifelong love affair for singing during this time, but it wasn't until he heard his first doses of Rock n Roll from great powerful singers such as Bon Scott, Robert Plant and Ann Wilson that he realized there was more out there for him.  He knew then that this was something he wanted to pursue.  Shortly thereafter Freddie heard a band called Judas Priest with Rob Halford singing that caused the talons of Metal to sink deep into his flesh and forever alter his path!  Freddie discovered what vocal range was and he was determined that he would master this skill.
Freddie had studied piano and voice prior to ever playing in his first band.  At the age of 17, Freddie joined his first band called Stiletto with a high school friend named Alvin Proctor, now Dr. Alvin Proctor.  Freddie was introduced to another musically gifted individual named Arlin Beaver who to this day is a friend for life.
Later, Freddie met a young guitarist whose style created a craving to play Heavy Metal, his name was Steve O'Dell.  This was when Freddie stepped out from behind a keyboard and into the spotlight as a front man.  This was the beginning of what is now Hammer Down many, many years later!  Multiple players have come and gone as well as a multitude of name changes.  One addition was adding Colden O'Dell to the mix once he was old enough to be able to get into clubs to play.  "The O'Dell's are a never-ending source of strength and support for me, they are my brothers, my best friends, my family!"
In early 2020, Freddie met future drummer Robb Williamson at a little place in Kings Mountain, NC called Younguns.  They were both there to watch another band perform, both unaware of what that fateful night would lead to only a few short months later.  "The first time I ever heard Freddie sing I was like Holy Shit this dude has some pipes!  Just coming out of playing for a Judas Priest Tribute, I was more than impressed!"  In early 2021, the final piece to the puzzle was found when Jerry Bridges was added finally giving Freddie the band he has always envisioned; Five guys that are all talented, easy going with no egos and who have mutual respect and truly love music for the music!  This rising force is known to all as Hammer Down and Freddie couldn't be happier!