Bio
HAMMER DOWN
Hard Rock at it's Finest
To understand the force that is Hammer Down you must examine the origins. Before the fall of 1985, the details are somewhat nebulous. It was at this time that Steve, a young and aspiring guitarist, sat in on the rehearsal of local rock cover band Stiletto. Freddie was the keyboard player and co-lead singer of the group. Steve played a few songs with the group and little did these gentlemen know a long-lasting friendship and collaboration would follow.  
Four years passed, and as time went on, Freddie not satisfied with the project he was in began looking for the kid with the raw style and ambition he had met years earlier. As fate would have it, they were reunited and formed the original act Bad Attitude. After a year or so of writing, rehearsing, and performing Fred and Steve both felt the project was not what they envisioned.  
Not being ones to sit idly by line-up changes were made and in 1991 the guys evolved into Dirty Jester. This time things were going more as planned. Although they were making progress and making great strides in the quality of there writing the evolution continued. As happens in bands members came and went over the next two years. With each change things began to solidify, and as they did came a final and most notable name change.  
1993 gave birth to KunkussioN a hard-hitting name to convey the power of even harder hitting original material. The band recorded it's first EP Dodging the Bullets later in '94 and continued touring regionally. Colden joined the band in 1995 after an unexpected vacancy at the bass position and has been a part of the core ever since that time. Shortly thereafter the band begin work on their second recording featuring original titles such as The Call of Death, A World of Violent Laughter, and Escaping Your pain to name a few. A live recording was released in 2002 titled Evil Latem (Live Metal) featuring a mix of original and cover material. Unfortunately, the studio work was never fully mastered as the band dissolved due to further line-up changes along with the vast change in the music scene in the early 2000's.  
As a new millennium and new challenges emerged with the appreciation of rock and metal music wanning the steady trio (Fred, Steve, & Colden) took time to pursue educational growth. In 2005 the guys began an acoustic project that later morphed into a group named UnderCover, a mix of electric and rock covers. As time passed, they began gravitating more toward there wheelhouse, loud rock-n-roll, but as had been the achilles heel in previous years the right mix of musicians could not be found.  
The guys always stayed close and after years apart working on individual projects, they reunited playing metal in the original/cover band Steel Heroes. Much like before a vacancy at the bass position brought Colden back into the fold in the summer of 2019. It was then the embers of live performance were uncovered and fanned into a roaring flame. Once again, feeling a desire for more the guys set out to begin a new project, Hammer Down.  
With the formation of Hammer Down a vow was made that this time they would return to their roots, playing great tunes with a high energy show. With their line-up solidified with Robb Williamson on percussion and Jerry Bridges on guitar a solid foundation has been built.  
Our goal has always been to make allies but to say that some were not lost along the way would not be entirely true. With that being said our mission remains the same, roll into your town, blow the roof off the building, and hit you in the face with a great rock-n-roll show like it was always meant to be. Afterwards we'll help you up, dust you off and welcome you to the ever-growing family of HammerHeads.
Press photos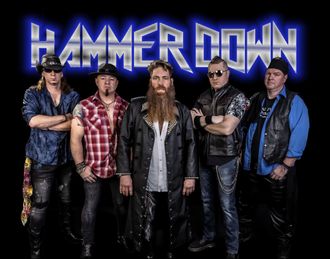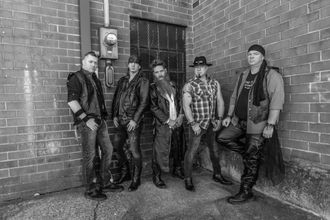 Live at After Hours Tavern
STAGE PLOT AND INPUT LIST
STAGE PLOT
CONFIRM DURING DATE ADVANCE ID ANY CHANGES HAVE BEEN MADE.
204 KB